Moving to a new state can be an exciting time and feel like a fresh start. But let's be honest – it can be pretty stressful, too. After all, uprooting your entire life and relocating to a new place is a little different than just moving across town. Have no fear, though; we have several tips for moving to a new state to help lessen any hassles.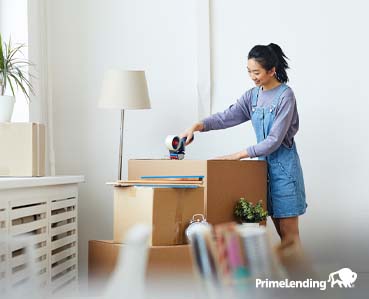 Find a Place to Live — If you have some time before your move, take a weekend to visit your new city and check out rentals or home listings (trust us – online listings can be very deceptive, so be sure to go in person!). You can also do a bit of exploring while you're there and begin to familiarize yourself with the area. You'll need to know where the nearest grocery store is, where to get your dry cleaning done, etc. If you don't have much time to find a place to live, ask your company about temporary corporate housing.
Make a Budget — Make sure your finances are in order before moving to your new city. Budget for moving expenses, a few months of living expenses and a stash for emergency and miscellaneous expenses. Keep in mind that many employers offer relocation services. These may include moving expenses (truck rental, hiring professional movers, etc.) but can also include travel costs, temporary housing while you search for a new home, help selling your current home and closing costs on your new home, vehicle shipment and more. Learn what services are available to you and take advantage of them. If your new employer doesn't offer relocation assistance, don't be afraid to negotiate and ask for assistance.
Stay Organized — Getting organized is the first thing you can do to help keep your sanity during the relocation process. Keep to-do lists of all that needs to get done in your current location and your new location. HGTV offers this week-by-week checklist to keep you organized in the 60 days leading up to your move.
Purge Before You Pack – As soon as you make the decision that you're going to be moving, start by getting rid of unwanted items and clothing. The less you'll have to move, the better! If you want to make some additional money before you move, you could hold a yard sale or online sale. But don't attempt those if they're going to create any added stress; donating to goodwill is an option that's simple and helps others at the same time.
Set Up Utility Bills Ahead of Time – Imagine moving to your new city and not having WiFi set up yet. The horror! But seriously, having your utilities set up before you get to your new spot will save you lots of headaches. Don't forget to include electric and gas, water and sewer, and trash and recycling.
Notify People of Your Move – This may seem like a given when it comes to family and friends, but there are some additional people who need to be made aware of your move. These include the U.S. Postal Service, your employer, your banks, credit card companies and insurance companies.
While it can be difficult to leave your old home behind and move to a new state, setting yourself up for a smooth transition can help make your move much more enjoyable. If you're planning on house hunting in your new town, get in touch with a knowledgeable PrimeLending home loan expert to help you get prequalified.*
*A prequalification is not an approval of credit, and does not signify that underwriting requirements have been met.