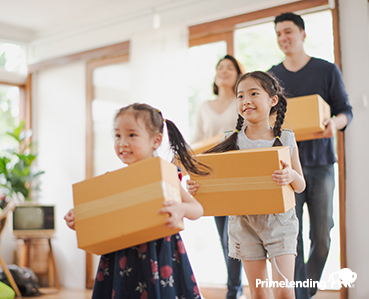 From the two-month mark to post move-in essentials, here's your go-to guide for a smooth transition.
So, you've made it through the home-buying process—congratulations! Now, you're ready to take the next step and move in to your new house. Here's what you'll need for the process—from pre-move-in to dos to post-move-in pre-requisites.
Pre-Move In
As a new homebuyer, you've made it through quite a daunting process. Now, you're well on your way to home-buyer bliss. Here's a rundown of what you'll need to do before move-in day.
Take Inventory
Begin sorting items—from clothing to furniture—and decide what you'd like to keep and what you could live without. Pack items you don't need to use for the next couple of months and donate or give away any unwanted items. This will make moving day a lot less hectic—the less you have, the less you'll have to move.
Arrange Transportation
Whether you plan on hiring movers or moving yourself, it's important to make arrangements in advance. If you're hiring movers, do some company research and check their availability for your move-in date. If you're moving yourself, make plans to rent a truck or arrange for friends/family to help you.
Transfer Utilities
Set dates to turn utilities off in your current home and on in your new home. The last thing you want is to move in a house without electricity or pay for utilities once you've moved out of your previous place.
Change Your Address
While it may seem obvious, changing your address in advance ensures any mail and other important items get to you and don't get lost.
Moving Day (Yay!)
It's finally here—the day that makes the home-buying process every bit worthwhile! Here's some tips for moving into your new house.
Make a Plan
Create a moving plan to move specific items first and stick to it. This will make for a smoother and faster move-in day, so you can start enjoying your new home.
Do a Once-Over on Your New Home
Before you start moving stuff in to your new house, make sure the place is clean and move-in ready. This makes it easier to take care of any issues before your items start taking up space.
…And Your Old Home
Before you close the door on your old home, make sure you haven't forgot anything and that the place is clean. This prevents any issues with future owners or the landlord and lets you enjoy your new house.
Post-Move In
Now that you're moved, it's time to get down to basics with a list of items you'll need to make that new house of yours, a home.
Play it Safe
One of the most important things to do, once you're moved in, is make sure your home is safe and secure. Here's a list of essentials that need to be addressed first and foremost.
Locks and Keys
Smoke Alarms
Fire Extinguisher
Carbon Monoxide Detector
First Aid Supplies
Cleaning Supplies
Get Down to Basics
Now that your home is safe and secure, it's time to check off items for some main rooms in the house. Here's a list of essentials to help get you started.
Kitchen
Plates and bowls
Cups and mugs
Utensils
Dish towels
Trash cans
Food containers
Pots/Pans/Baking sheets
Dish soap
Knives
Oven mitts
Cutting boards
Measuring cups
Bathroom
Towels
Shower curtain
Bath mat
Toiletries
Soap and shampoo
Toothbrush holder
Waste basket
Toilet brush
Plunger
Bedroom
Mattress
Bed frame
Bed sheets
Pillows
Pillowcases
Hangers
Drawers/Storage
Living Room
Coffee table/Side table
Couch/Chairs
Lighting/Lamps
Blankets/Throws
So, there you have it! Using this list and planning ahead will save you time and stress, so you can start relishing the joys of home ownership.
Have questions or would like more information? Get in touch with a PrimeLending expert for personalized guidance. We're here to help!