Summer is winding down and it's almost time to shift gears for the upcoming academic year! A new school year is a fresh start for your kids, and a chance to build on what they've learned in the past for their present and future success.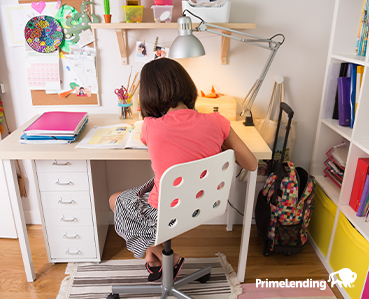 During the hustle and bustle of preparing for a new school year, it can be easy to forget about one of the most important learning spaces, your home. Check out these practical tips to help create a home environment that fosters education.
Create a place to study. Set aside a space in your home, even if it is a corner of another room, you can set up to be used specifically for schoolwork. Give your children the opportunity to get creative and help decorate the space. If you have an office or workspace of your own, consider making room for your kids, a place where everyone can work independently but together. A desk or table will help your child work comfortably, and one with shelves and storage such as cubbies or drawers provides a place to store textbooks and other supplies.
Get organized. Start the year with a blank slate. Clean out the study area and put away or toss any remaining papers or unnecessary books and notebooks from last year. Have a designated place for folders, backpacks, shoes, sports gear, coats and other items your child might otherwise drop at the front door. A simple shelf with hooks or a bench with space underneath makes a convenient place to hang essentials like backpacks where they won't be lost the next morning.
Make a schedule. Perhaps the most challenging part of a new school year is keeping track of everyone's schedules. Find a system that works for you, whether that be a bulletin board, chalkboard (freestanding or chalkboard paint on a wall or cupboard), magnetic fridge calendar or a digital calendar that syncs to every family member's device. Writing out schedules in a place for all to see can help reduce the chaos and stress that seems to so often accompany a school year.
Take inventory. Back-to-school shopping can get expensive in a hurry. Before you step foot in a store, be sure you've taken inventory of the school clothes and supplies your kids already have. Gather up loose notebooks, pens and pencils from around the house, check the condition of backpacks, clothes and shoes. Get rid of anything that is broken, worn out, too small or otherwise unusable and make a list of exactly what is needed.
Stock up. In addition to school clothes and supplies, be sure to stock your pantry and fridge with easy, healthy breakfast foods, lunch items and after-school snacks. Designate a shelf or drawer in your kitchen to store non-perishable items where you can easily grab them and toss them in a lunch box, or where the kids can help themselves to an afternoon snack. Hopefully these tips help set you and your kids up for another successful school year. But, if its time to make a move into a home with more space where you can have an office and your children can have a designated study space, contact a PrimeLending home loan expert today.