When you think about going to a football game, what comes to mind? Chanting along with the crowd, wincing at the crack of a big hit, high-fiving after a winning touchdown, or clapping along with the fight song. But what happens in the stadium is just part of the experience? For many, the best part of a game – any game – is the tailgate party in the parking lot.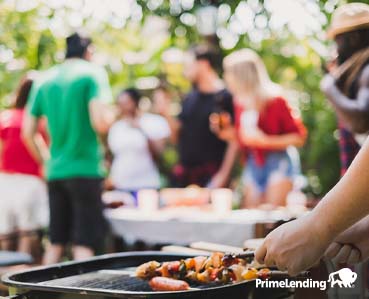 So why not bring the fun and excitement of the football stadium to your own home and plan a backyard tailgate party? After all, it is the ultimate home-field advantage!  Just follow our simple planning tips to make sure your event scores big with your friends and family.
Pick a "Big" Game. One of the great things about an at-home tailgate is that it doesn't matter whether your team is home or away. So, you are free to choose a game that matters – maybe against your biggest rival or one that makes a difference in the standings. If the game is important, your guests will be more amped to dress up and join in the game-day atmosphere.
The Game is the Star. You'll need to plan for how you are going to see the game from your tailgate. From weatherproof TVs to an outdoor projector with an inflatable screen, patio theaters are a popular trend. No matter what you choose to show the game, be sure and set it up early enough for a trial run. You may need a last-minute run to the electronics store for an extension cord or portable speakers.
Invest in Outdoor Entertaining Space. Creating or improving your outdoor entertaining areas may be as simple as refreshing your patio furniture with new fabric or throw pillows, or it can be a more involved project, such as installing a built-in BBQ, adding a deck or building a pergola. These types of investments pay off should you decide to sell your home, plus make living in your space now more enjoyable.
Get Your Guests Involved in the Spread. Part of the fun of a tailgate party is sampling others' "mobile" recipes. Invite your guests to bring their favorite tailgate finger foods or ask them to help man the grill. You can even make a contest of it, and award prizes for most creative, best use of cheese or even MVD (Most Valuable Dip)! Getting your guests involved helps keep you out of the kitchen and enjoying the party yourself.
Don't Forget the "Junior" Fans. Backyard tailgates are wonderful events for the whole family. While the adults watch the game, kids have plenty of space to play. Plan a few kid-friendly activities to keep them occupied, like Cornhole, a relatively inexpensive game to buy that all ages can enjoy.
Make a Back-up Plan. Just like your star player might get hurt and need a backup replacement, you need to have a plan in case bad weather becomes an issue. If you don't have suitable space indoors, think about a tent or a tarp to keep guests dry. If an unexpected cold snap arrives, consider a portable heater or fire pit.
We hope these tips help you throw the best tailgating party your guests have attended. After all, what's not to love about great friends, yummy food and football? If you need a new home turf for your tailgate teammates, contact a PrimeLending Home Loan Expert to discuss your mortgage game plan.