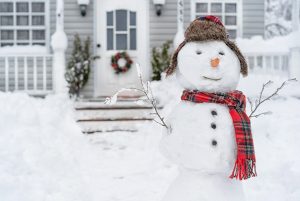 Just because flurries are flying doesn't mean you have to stop house hunting. If you're in the market for a new home, looking in winter might give you a leg up. The cooler (or in some places sub-zero) temperatures may have you wanting to postpone your home-buying search, but winter is actually a great time to buy a new home. With timing on your side, competition at a minimum, and real estate agents and other housing professionals readily available, the home-buying market can work in your favor during winter.
Grab your winter coat, throw on some snow boots and discover the benefits of buying a home in the winter!
Motivated Sellers
There may seem to be fewer homes on the market during winter months, however, homeowners that have listed their home are likely very driven and serious about selling. Use this to your advantage when negotiating the home price and closing costs. Some sellers may be determined to sell their house before the end of the year for tax purposes, so they may be more agreeable to your purchase conditions, meaning you could get a sweet deal!
Less Competition
Many homebuyers will opt out of house hunting in the cold, winter months, which is good news for you. Less people looking for homes means less buyers to compete with for the property you love. Having fewer competitors also means you can take your time searching for the perfect home and don't have to feel rushed into making an offer out of fear of losing out to other buyers.
Available Realtors
Every industry has their slow season and for real estate that is winter. This is a great time for you to find a real estate agent you love. As the off-season lull sets in, more industry professionals will be available to assist you in your home-buying journey. With a smaller client pool, real estate agents can dedicate more time and effort to your customized search.
Winter-Ready Homes
Another hidden perk to touring homes in the winter is that you get an inside look at how that home holds up to winter weather. When you view homes, be sure to check out the heating unit and its effectiveness. Check for drafts near windows and doors, especially in older homes. Test the water heaters by running hot water in the sinks to check the temperature and how long it takes to get warm. Most importantly, get a home-inspection expert to evaluate the home's winter durability.
Moving Discounts
Moving can be stressful any time of year, but it can be particularly frustrating during the winter. To make the move to your new home as stress free as possible, hire professional movers. During the winter, many professional moving companies discount their service costs. Some even reduce their staff during this "off season", retaining only their most seasoned movers. That means you could hire the best of the best to move your belongings—at the most affordable prices.
Take advantage of buying a home this winter. The loan experts at PrimeLending are here to guide you through your home-buying journey. Chat with your local PrimeLending loan officer to get started today!