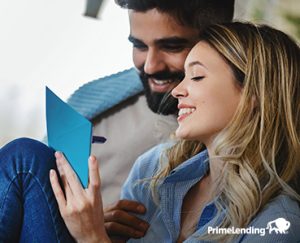 Thanksgiving is just around the corner which means people will be getting together, either in-person or virtually, to celebrate. They will reflect on the past year, reminisce about holidays of yore, and give thanks. Do you know what you're going to say when they ask you what you are grateful for?
Practicing gratitude is something you can do all year; however, Thanksgiving typically prompts people to share what they are grateful for. Some people may say they are grateful for silly things, like Skittles bringing back their lime flavor. Others may be thankful for something deeper.
To get you ready to give thanks and say thanks this Thanksgiving, PrimeLending is sharing the best ways our team members know to show gratitude.
The immediate thank you
Many things that deserve a "thank you" can get overlooked during the hustle and bustle of the holiday. Stay on top of your grateful game by finding opportunities to thank people throughout the day.
Say your brother offers to clean the kitchen after Thanksgiving dinner. Let him know you appreciate his help by saying, "Thank you." You can make it more personal than that to liven things up if you wish.
The verbal "thank you" is also great for thanking your guests before they leave. Everyone likes to feel appreciated, so a little thanks will go a long way. Acknowledge that it's a busy season and thank them for choosing to spend their holiday with you.
Social shoutouts and eThanks
If you're one for public displays of appreciation, a social media thanks may be more your style. You and your guests will, more than likely, take a cornucopia of pictures during the holidays. Put those to good use in social media shoutouts.
When saying thank you in a social media post, you can be as personal or general as you want. If you manage to get a group picture, you can share it on your own profile and thank everyone for attending. Want to put the spotlight on each guest? Post a photo dump from the entire day to highlight your friends and family.
If you don't want to share your entire day to social media, but still want to thank everyone, email is your next best bet. You can send each guest a personal message or hit everyone's inbox at once with a mass email. Take it a step further and attach some photos from the day that they can enjoy.
Social media shoutouts can be an instant thank you while emails are like a digital thank you note. Speaking of thank you notes…
Thank you notes
It may seem like graduates, newly-weds and Jimmy Fallon are the only ones who write thank you notes these days, but the truth is, we can all get in on the action.
Writing a physical thank you card might feel old-school when it should be considered a lost artform. Whether you put pen to paper or type and print your message, sending an actual card of thanks through the mail feels more personal to the recipient. Plus, isn't it nice to get something heartfelt in the mail that isn't a bill?
Thank you notes are perfect for the people in your life who may not use social media or have an email account. For instance, say you want to thank your grandma for bringing chocolate chip cookies to Thanksgiving dinner. A thank you card is a prime opportunity to share your gratitude and to ask her for her recipe.
The thank you note is also the best way to thank someone for letting you stay with them. Holiday travel, especially now, can be quite stress-inducing. If you are a guest in someone's home this holiday season, be sure to thank them for opening their home to you. Either take some stationery with you to leave a thank you card behind or set some cards out where you will see them so that you don't forget to write a note when you get home.
No matter how you choose to show your thanks during the holidays, be sure to be sincere. Remember, grateful is a happy place to be.
If getting everyone together for the holidays has your house feeling a little crowded or thinking about owning a home to play host in the future, PrimeLending has you covered. Talk to one of our loan officers about your mortgage options today.