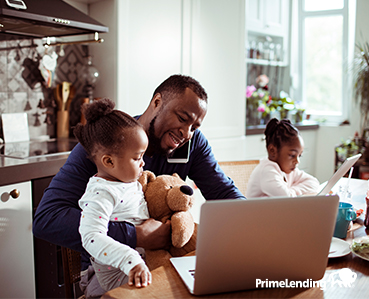 As a homeowner, you've already taken a big financial step. Now, imagine renovating your house, paying off any debt, taking care of medical expenses, or even taking that dream vacation. Did you know that refinancing your home is a possible solution to paying for these things?
With cash-out refinancing, your current home loan is replaced with a new mortgage, allowing you to take your home's built-up equity and transform it into funds. In other words, you borrow more than you owe on your mortgage and get the difference in cash.
Here are five benefits that cash-out refinancing can offer:
Easier Qualifications: Since you already own a home, have established a good payment history and your home's value has increased, you have a great head start on qualifying. That typically makes for a quicker and easier qualification process. Yay!
Tax Deductions: Unlike credit card interest, mortgage interest is tax deductible*. A cash-out refinance can reduce your taxable income and land you a bigger refund on your taxes. And who doesn't like more money?
Debt Consolidation: Utilizing your cash-out refinance to pay down your debts can save thousands of dollars in interest. Enough said!
Higher Credit Score: Paying off your high-interest credit card allows your credit utilization ratio to go down considerably, ultimately, giving your credit score a boost. And that's always a plus.
Access to Funds: Cash-out refinancing offers you access to cash that you can use however you want, like home renovations, a wedding, or school tuition. Just imagine the possibilities…
If this sounds like something you're interested in or like to learn more about, reach out to a PrimeLending expert for personalized guidance. We're here to help you get started!
*PrimeLending is not authorized to give tax advice. Please consult your tax adviser for tax advice for your specific situation.